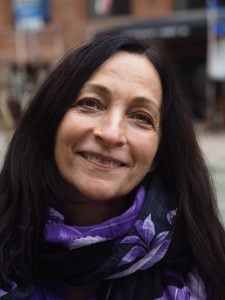 I'm Iris Buehler, and continued, holistic personal development is my passion. I believe that taking great care of our minds is just as crucially important for our well-being, both individually and as a culture, as taking care of our physical health.
I graduated from the University of Freiburg (Germany, 2002), majoring in Sociology and minoring in Political Science and Philosophy. I consider myself lucky that throughout my studies, which included several semesters as a guest student at The University of the Andes in Mérida, Venezuela, I gained invaluable insights and experiential knowledge about diverse approaches towards leadership, and the creative power of unconventional, unorthodox viewpoints and out-of-the-box problem solving.
After having worked a few years as an editor at a government printing house in Venezuela, I dedicated myself to the study, practice and teaching of Thai Yoga therapy internationally. What was intended to become "just" a life skill had soon turned into a passion and profession, culminating in an absolute highlight of my life: the experience of leading a series of students to successfully complete the first online videoconferencing Thai Yoga massage certification programs worldwide, in 2020.
I'm feeling utterly alive working with people who want to be fully alive and make an impact. I enjoy working with people who strive to make an extraordinary difference for themselves, for the people in their lives and the people in their charge. My role in Corporate Communications at The Morpheus Clinic for Hypnosis is to provide you with the best of the above experiences as I help you to develop wellness programs aimed at helping the mind and the body, in order to support your company and your employees accomplish the very specific and increasingly urgent goal we all share: overcoming obstacles in times of a global pandemic and beyond.
There's a special place in my heart for companies that are passionate about adding value to their employees and having their back, leaders who strive to empower their team through personal development so employees can be their natural best at what they do in every area of their lives.
I look forward to working with you as a partner, to provide tools and mindsets that support soft skills such as:
Developing and maintaining bulletproof attitudes, perspectives and mindsets, despite challenges
Achieving the critical ability to clarify thinking to build resilience and stay calm, relaxed, positive and empower others in the face of adversity
Improving communication, collaboration, productivity, lateral leadership and employee well-being in remote work teams
If this resonates with you, let's talk. You can call my direct line at 647-479-7120 during business hours or e-mail me at [email protected]
I look forward to speaking with you.