Expert Hypnotherapy
We use rapid hypnotic inductions and modern methods of change, such as NLP and 5-PATH® hypnotherapy, to help you resolve your problem as efficiently as possible. Each session will leave you relaxed, in control, and beginning to feel a difference.

Our Guarantee
Our skill, professionalism and empathy are backed with a complete "the client comes first" refund policy — the original of its kind in Toronto. Our commitment to service means you can begin hypnotherapy with peace of mind.

Book Your Free Consultation
Lose Weight Naturally
Stop emotional eating, gain motivation to exercise and develop healthier eating habits.
Stop Smoking
You were born smoke-free, and hypnosis can help you recover your freedom.
End Fears and Phobias
You were born fearless, and hypnosis can help you get back your natural confidence.
Get Over Your Ex
Hypnosis can help you forgive, forget and move onto better things.
Stop Procrastinating
Find the motivation to defeat procrastination once and for all.
Confidence with Women
Overcome "approach anxiety" and the fear of rejection.
Sleep Easier and Faster
Ease the worries from your mind to sleep more quickly and easily.
Speak in Public
Become a confident, dynamic, eloquent public speaker.
Manage IBS Naturally
Hypnosis targets the stress and shame that make IBS difficult to live with.
Relieve Stress
Hypnosis is a state of deep relaxation that helps you to relieve stress.
Boost Sports Performance
Hypnosis helps you focus, "get in the zone" and develop the winner's edge.
Other Issues
We work with many other issues, including pain management, sexual issues and bad habits.
Is Hypnosis Right For You?
Complete This Quick Questionnaire to Find Out!
---
Free Hypnosis MP3
Join our monthly newsletter and receive a free hypnosis MP3 for confidence and motivation ($19 value). You can unsubscribe at any time, and your information will never be shared with anybody. To receive your free MP3, simply enter your name and e-mail address below.
Survey Shows 96% Client Satisfaction at Morpheus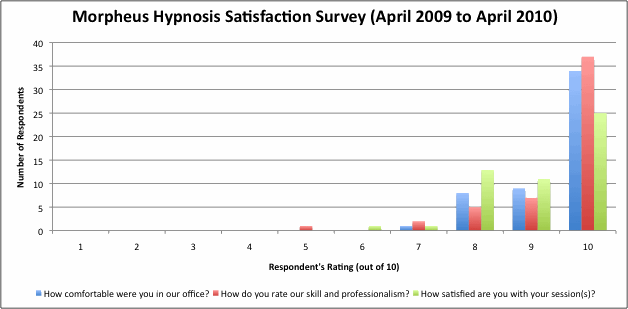 94% of clients surveyed rated their Morpheus hypnotherapist's skill and professionalism 8/10 or higher.
96% of clients surveyed rated their overall satisfaction 8/10 or higher.
Only 2% of clients surveyed gave a rating lower than 7/10 for any particular question.
90% of clients surveyed would recommend Morpheus to a friend. 10% weren't sure (e.g., they wanted to evaluate the results first). None of the clients surveyed wouldn't recommend us to a friend.
Some of our competitors wonder how we can continue to offer an unconditional money-back guarantee, after over six years in business and almost 2000 clients. This chart responds to that question with a clear, unambiguous answer: Our clients love us.
And we're honoured to help them.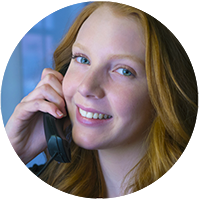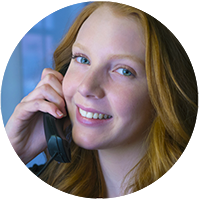 Change is Possible!
Call for a free consultation.
416-556-4068
Change is Possible!
Call for a free consultation.
416-556-4068
For the first time in my life I'm consistently waking up and actually looking forward to my day
This has changed my outlook on life dramatically
I never knew what being relaxed truly felt like before our sessions

— M.K., Professional Hockey Player
For the first time in my life I'm consistently waking up and actually looking forward to my day

This has changed my outlook on life dramatically

I never knew what being relaxed truly felt like before our sessions

— M.K., Professional Hockey Player