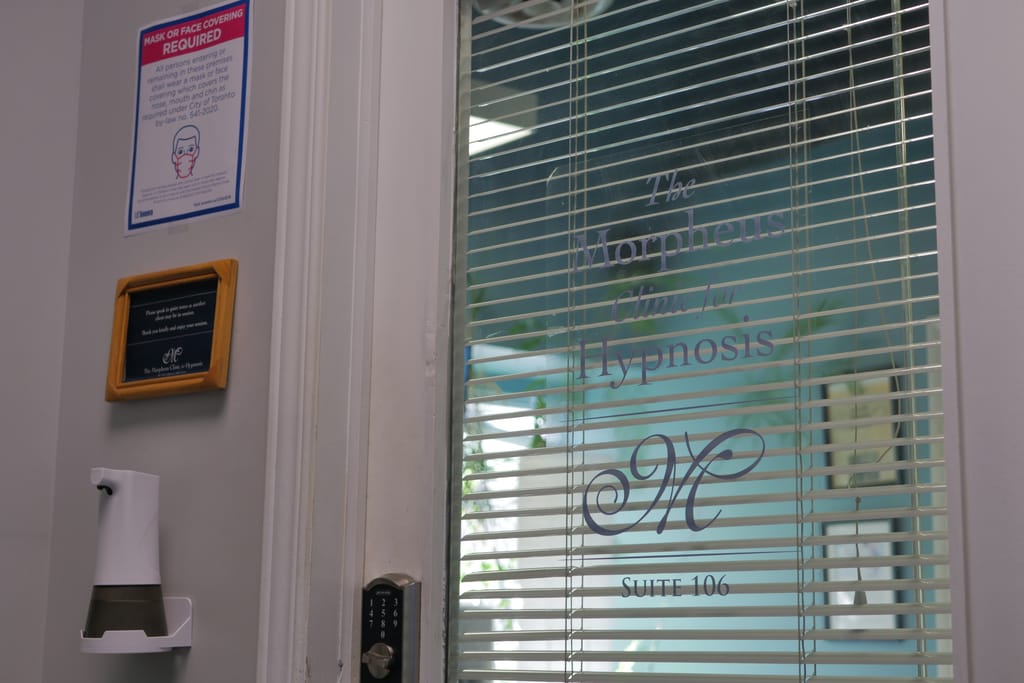 Last updated April 5, 2022.
In addition to online sessions, our office is open for in-person sessions in downtown Toronto. If you have privacy in your home and a stable Internet connection, our online sessions are nearly as good, since we use a number of technologies to transmit higher-quality audio than the typical video call. However, we understand that many of our clients prefer to visit a physical office, and this option remains available even as the world recovers from the Covid-19 pandemic.
To ensure your health and safety, we have implemented these measures for in-office sessions:
We are scheduling at least 30 minutes between each client to allow for physical distancing and disinfection.
The hypnosis chair will be positioned so that your face is at least 2 meters away from your hypnotist during the session.
Our staff will engage in regular hand-washing.
Our staff members will be continually self-monitoring for Covid-19 symptoms and undergoing testing if any symptoms present.
We are vaccinated and boosted.
We do not enforce our cancellation policy for illness-related cancellations.
We ask you, as a client, to follow these measures:
Please consider wearing a mask.The province no longer requires you to wear a mask and we consider it to be a matter of personal choice, but if you are comfortable wearing a mask, it means that we don't have to start worrying if you cough in the middle of your session.
Please consider washing your hands or using hand sanitizer before entering our office. The washrooms are further into the building on our floor, through the door labelled "Suites 101-105."
We ask that you do not arrive more than 10 minutes early, so that you do not have to be waiting long.
If you develop a cough, fever or any other symptoms of Covid-19, please ask us to switch your appointment to an online session, or call to reschedule your session. There will not be a penalty for illness-related cancellations.
Please note that the entranceway and stairs in our building are not under our maintenance, and are not cleaned as regularly as our office suite.
We accept credit and debit card transactions, as well as Interac e-transfer as a contactless payment method. We recommend avoiding physical cash if possible.
If you need to reduce your risk of exposure even further, tele-hypnosis is your best option. We have operated from the same physical location since 2006 and we are not considering closing our office or switching to an online-only practice. We look forward to working with you again.