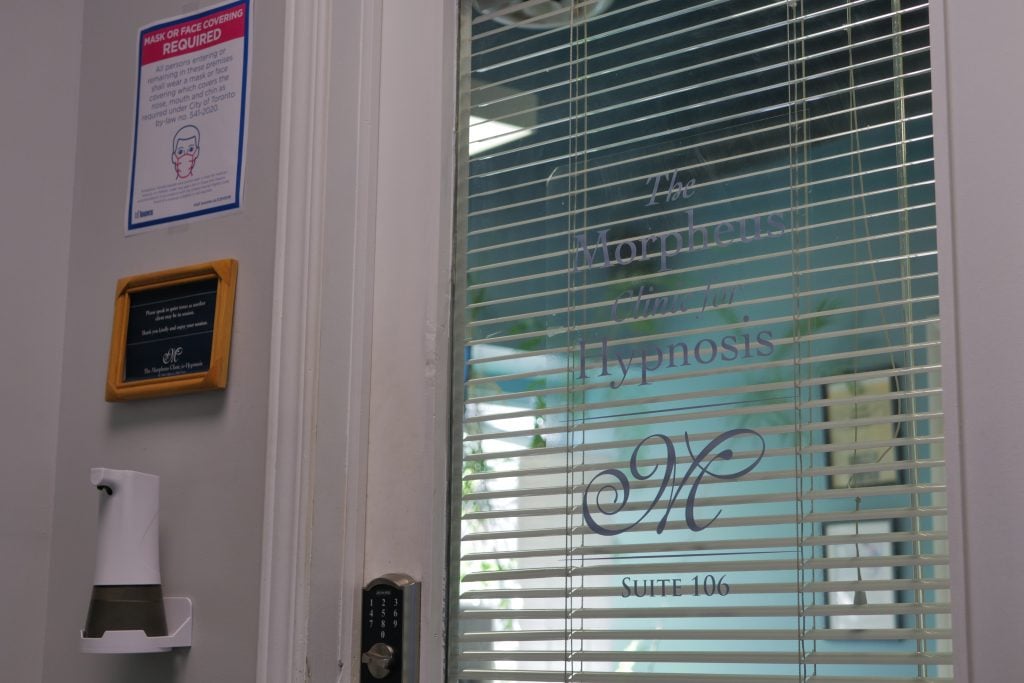 Note: As of November 23, 2020, and until the government announces an end to the lockdown, we are taking online appointments only.
As of May 19, 2020, our physical office has reopened at the same time that we're still offering online sessions. Appointment slots will be somewhat more limited than normal because of the extra precautions that we are taking, so we recommend booking in advance.
To ensure your safety, we have implemented these measures:
We are scheduling at least 30 minutes between each client to allow for physical distancing and disinfection.
We will disinfect surfaces touched by a client, including the hypnosis chair, with 70% isopropyl alcohol or another virucidal disinfectant between each appointment.
The hypnosis chair will be positioned so that your face is at least 2 meters away from your hypnotist during the session.
Our staff will be wearing face masks and engaging in regular hand-washing.
Our staff members will be continually self-monitoring for Covid-19 symptoms.
We ask you, as a client, to follow these measures:
If you have privacy at home and your issue isn't complex or sensitive, we recommend doing our self-directed online consultation to begin.
Per the recent City of Toronto by-law, we require that you wear a face mask inside our office. We have surgical masks available for a nominal fee if you forget to bring a mask. Exceptions will only be made for medical reasons (details and proof are not required).
We have a touch-less hand sanitizer dispenser with a 75% alcohol-based solution just outside our entrance. Just place your hand under the spout and it should dispense (do not push down on the unit). It can be somewhat finicky, so try a few times if it doesn't dispense on the first try.
We ask that you do not arrive more than 10 minutes early, so that you do not have to be waiting long.
Please respect the physical barriers that we have put up.
If you develop a cough or fever, please ask us to switch your appointment to an online session, or call to reschedule your session. We do not enforce our cancellation policy for illness-related cancellations.
Please note that the stairway, hallway and washrooms in our building are not under our maintenance, and are not cleaned as regularly as our office suite.
We are still accepting credit and debit card transactions, as well as Interac e-transfer as a contactless payment method. We recommend avoiding physical cash if possible.
If you need to reduce your risk of exposure even further, tele-hypnosis is your best option. We have operated from the same physical location since 2006, and we are well-poised to ride out the current storm—we are not considering closing our office or switching to an online-only practice. We look forward to working with you again.